Have you upgraded your Dynamo graphs to Revit 2023 and they look like this?

Thankfully we have a few options to fix this.
Option #1
comes to us from the Dynamo forums. Jacob was friendly enough to create a batch resizer graph that will fix a directory of DYNs.
https://forum.dynamobim.com/t/graph-resizer-for-dynamo-2-13/75612
It works really well, but (at the time of this post) has a few issues if you rename nodes with special characters. For instance, Rhythm nodes are renamed on placement with the prefix of ʳʰʸᵗʰᵐ|.
Your option for fixing this is to open the DYN in notepad and replace those characters with something else, (not great, but still doable).
Option #2
is to use a new tool in monocle to resize the current graph on the fly. The new tool, Resizerer, will allow quick adjustments with rapid feedback. I want to note, that Resizerer was definitely inspired by Jacob's original graph and is the result of using that logic directly in the Dynamo API.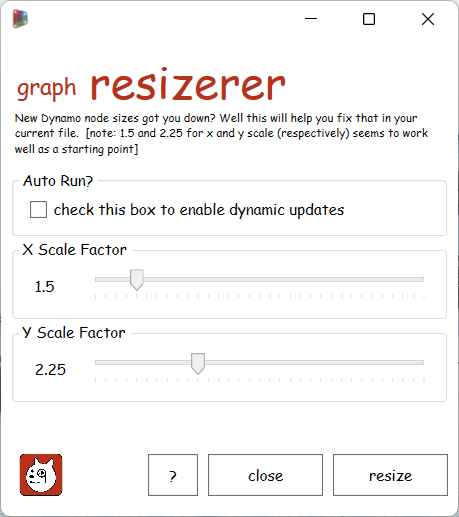 Check out the video below to see this tool in action: