History
I started sixty second revit back in 2013. It started after I wrote a blog post for my company's (at the time) blog about photogrammetry. I wanted to share more, but they only had so much room for "technical" posts about Revit.
The first post on sixtysecondrevit lives here:
First post on sixtysecond.revit
Why was it called sixtysecondrevit?
At the time I worked for an architecture firm and when I thought of what I wanted to share, I immediately came up with:
"Wouldn't it be great to share quick Revit tips (about 60 seconds) because who doesn't have 60 seconds?"
In addition to this thought, I followed quite a few Revit blogs. Here is a (not fully complete) list of the ones I would check almost every morning.
Within this list, we are going to see 2 common things. The word Revit and the hosting on Blogspot. When I finally decided to start a blog, I wanted it to target Revit tutorials. So, I went ahead and named it with the word Revit in it. Especially because I knew I was not going to go talking about AutoCAD. 🤣
Additionally, I went ahead and hosted on Blogspot.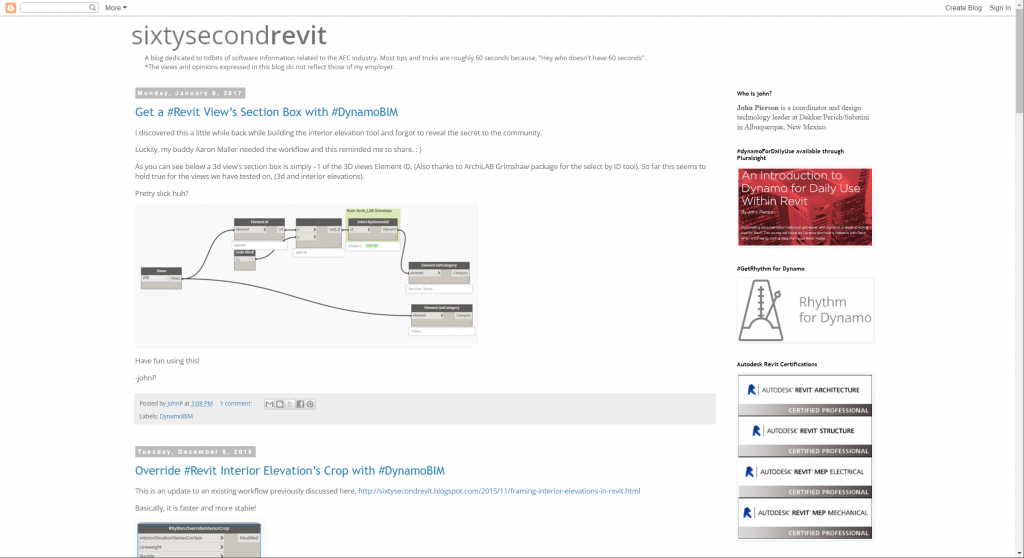 Over time, the blog outgrew the Google blogger hosting and I moved it to my own hosting through GitHub and Netlify. All while maintaining the "sixtysecondrevit" name. At this time I actually bought a real domain for the first time too!
https://www.sixtysecondrevit.com/2017-01-15-johnp-firstrealpost/
---
Other than outgrowing Blogspot, I just felt that I wanted the content to live somewhere that I controlled. Interestingly enough, "What Revit Wants" went through a different (but similar) issue:
Luke's post about his migration is here and another resource here.
Outgrowing the "sixtysecondrevit" name…
Preparing for this post I had not realized that I have been blogging for almost 9 years. 😱 Naturally, along the way things have changed. I have changed companies a few times, moved, and even changed career paths as well.
As you may know, sixtysecondrevit.com does not only cover "Revit tutorials" anymore as I spend a ton of time in Dynamo and general Revit API stuff, (Revit is still there, but that hasn't been the sole target in a bit).
Even though Revit is still my primary focus for day-to-day work, there are a number of other technologies I would really like to cover here. I recently did a presentation for AIA all about Design Technology and it was a blast. In this presentation, I discussed the work that awesome people are doing at HYPAR, TestFit, and Speckle, (while all of these interact with Revit in some way, they in and of themselves are not Revit-centric).
In addition to this, I have eLearning content that desperately needed updating. Shoutout to anyone who still watched my "Dynamo for Daily Use" course on Pluralsight
https://www.pluralsight.com/courses/dynamo-revit-introduction-daily-use
Don't worry! sixtysecondrevit.com will stay as-is for now. So all those posts are safe and will be migrated as it makes sense. 😁
Introducing Design Technology Unraveled
Teaching has always been something that I loved to do. Over the lifetime of this blog, I have discussed the uphill battle of presenting at Autodesk University, (TLDR: I have been denied 3x as much as I have been accepted to present).
I have, however, taught at Autodesk University, BILT, and various user groups dozens of times and it has been awesome. In addition to these presentations, I have my Dynamo 1.0 course through Pluralsight, taught a Dynamo course at our local community college, and trained clients on Dynamo and Revit.
During quite a few of those presentations, I actually have been asked,
John, when are you updating that darn Dynamo course from 2016?

– anyone who knows me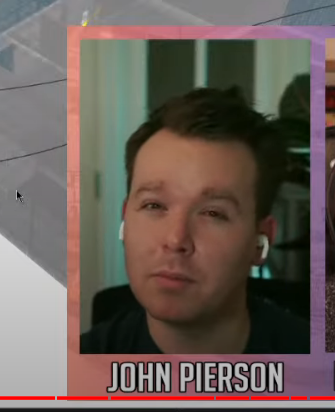 For a long time, the answer has been "I am not sure" and "it is not update-able". But today that answer is, "now".
Along with this name change, I am introducing an update to that course from 6 years ago.
The course is "Nodes Unraveled – Dynamo for Revit Beginner" and covers a variety of topics for the beginner user to finally get working in Dynamo.
It is available on the following site and represents quite a few hours of recording and editing to get it how I wanted it. I wanted to include a special thank you to my wife, Vanessa for helping me (often into the late-night hours) get this course completed.
https://learn.designtechunraveled.com/p/dynamo-for-revit-beginner
In addition to this first course, I have a few other ideas for purpose-built courses. So please let me know in the comments what else you would like to see. (And if that is something that makes for a simple YouTube video instead, that is cool too).
Beyond that, I look forward to continuing to share knowledge on this blog, the YouTube channel and anywhere else you find me. Rest assured, this site will still cover Revit tutorials as that is where it all started for me. Shoot, with the new name change we might even talk about AutoCAD now and then. 😜
I wanted to end this post with a quote that I always share with people. I believe in sharing because,
"The world of the generous gets larger and larger, and the world of the stingy gets smaller and smaller".

– Proverbs 11:24 MSG
Thanks again for all of the support and for following sixtysecondrevit. I look forward to sharing more and I am extremely excited for the future.
-johnP

(* fun fact, johnP is the way I started signing blog posts way back in 2013.)